AUDIO LEARNING PROGRAMS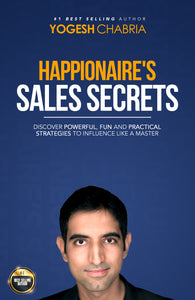 "The truly rich are the ones who have mastered the ability to influence others to attain their own goals."
~ Yogesh Chabria
Discover the secrets, tools and strategies practiced by the world's top sales professionals and influencers.
The most valuable skill you can possess in today's highly competitive world is the ability to sell and market with confidence. This is the reason why some people are able to dominate and move ahead in life and attain massive success, while others get left behind and face constant rejection and failure.
Do you really want to be a high performer? A leader? An action oriented person and not just a 'talker'?
Yogesh designed this proprietary program to give you the skills to be a master influencer and persuade others. In this program, you will learn the insider secrets, strategies and techniques of the world's topmost sales professionals, leaders and marketers – principles Yogesh practices every day.
In our ever changing world, the power to influence is what guarantees you dominate over your competitors. Master your ability to influence with this risk-free opportunity and start crushing your competition right now.
Discover:
Proven strategies used by a sales professional to sell a luxury car worth over $300,000 in less than 48 hours – and how you can implement the same in your domain

The biggest mistake a sales person made while selling to my wife, and how you can avoid it.

The power of asking for what you want, and the best way to ask for it

Key influence strategies practiced by world leaders in marketing

What you can learn from the world's greatest sales professional

What the top 1% of sales professionals know and practice

What the Gita – the timeless Indian scripture taught me about business, sales and life

The secret to constantly keep surpassing your sales goals and targets
"It cannot be stolen by a thief. It cannot be taken away by a King. It cannot be divided among brothers. It does not cause load. It always increases when spent. The wealth of knowledge is the greatest of all wealths."
~ Timeless Sanskrit Saying
Reviews
Neha Shah

Verified Buyer

A superb program….I listen to it many times while traveling to work and during my evening walks….it's incredible to see the results in my clients and co-workers when I practice the strategies. Thanks Yogesh for sharing this!

Daniel Smith

Verified Buyer

The best investment I made. Excellent learning. Will highly recommend it.

Kim Saldhana

Verified Buyer

You can't go wrong with this program. Helped me become more confident and change my mindset.

Raghavan Swamy

Verified Buyer

Lots of skills I learnt, have also helped me in my personal life. A must have!!!

Sonia Bhatia

Verified Buyer

The only program you need to grow your persuasion skills.
FAQ's
How can this program help me?

Happionaire's® Sales Secrets ™ is one of our bestselling programs that will teach you the art and science of sales. Learn persuasion psychology and how to influence other people so that they say a lot more of "yes" to you. You will gain an edge over everyone else by getting access to insider secrets and strategies practiced by the world's best sales, business and marketing professionals.

How can I access this program?

Once you pay securely with your credit/debit card, you will get access to the program digitally. You can listen to the audio content, anywhere and everywhere on any internet enabled device (phone, tablet, laptop, PC). You no longer have to be stuck in traffic or waste precious time travelling – you can use this time to upgrade yourself with Yogesh Chabria Certified Learning Programs.

Do you have a physical copy of the program?

We decided not to have a physical product, so that you can benefit from a lifelong product stored securely on the internet. It's also a lot more eco-friendly to go digital – no more wasting paper, packaging and shipping.